Lisa Jones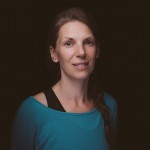 My introduction to yoga came quite early as my dad was a dedicated yoga practitioner when I was growing up, although it wasn't until I moved to Manchester in the early 1990's that I started developing my own regular practice, as it supported my body, mind and health throughout my career as a professional dancer.
After years of learning and practicing many different styles and forms of yoga including Iyengar, hatha, yin and meditation, I enrolled on my first teacher training course with Simon Low at The Yoga Academy, and became a qualified teacher in 2006.
Now, after nearly 10 years of teaching professionally my classes have become therapeutic, educational and person centred. I continue to practice and study every year, and have a very strong passion for functional biomechanics and somatic movements which cross over into all classes that I teach. Each practice I lead has elements of breath-led movement which is slow and fluid, longer held restorative postures, relaxation and meditation.
For me, yoga is a practice of self enquiry, and ultimately the practice of becoming inwardly still, so from that stillness full integration can be experienced. We are individually a bunch of habits and patterns that are borrowed from our different external environments and the practice of yoga helps develop the awareness and space needed to explore and observe these habits and patterns at a deep internal level. From this point of acceptance, we can learn to create new ways of interacting within life and the world, beyond our learnt habits and reactions.
www.lisajonesyoga.co.uk
tel: 07772 238 355
Drop-in Yoga Class
Mondays 12.45-1.45pm £7.50 / £6 concession
Please check calendar for class breaks