Yoga Nidra
Yoga Nidra
Relax & revitalise your body and mind with this Yoga class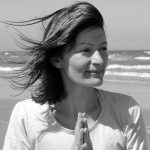 Time: 10.30-11.15am – no class 31 May
Cost: £7 / £5 concession ( benefit claimants, unemployed)
Teacher: Maryline
Do you feel the need to stay sharp all through the day to meet deadlines and targets?
Do you have high expectations for yourself and like to function at your full potential?
Have you considered relaxation and meditation before and don't know where to start?
Do you experience fatigue symptoms, and have you been close to a burn-out before?
Do you find it hard to switch off from daily life pressures?
Yoga Nidra is a proven resource for healing, insight, and empowerment. It helps us to re-encounter the essential truth of who we really are and provides us with the opportunity to experience deep freedom.
Yoga Nidra is practiced whilst the body is resting in a supported lying down (or seated) position allowing the subconscious mind to be highly receptive to cues of letting go and achieving peace.
This class is designed to help you to relax, settle your thinking patterns and give your body and mind a full recharge.
This 45-minute session includes a Yoga Nidra practice plus some mindful awakening exercises to set you up for the rest of your day.
You don't need any previous Yoga experience, or even to get changed!