Mokshajyoti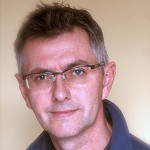 I qualified after 3 years training at Cumbria Alexander Training School in Kendal which is run by Jamie McDowell and Michael Hardwicke.
Although I am a newly qualified Alexander Teacher, my third year has been wholly practically based with 'hands on' sessions almost daily, with fellow students and the public of Kendal.
Prior to my AT training, I worked at the Manchester Buddhist Centre for 10 years firstly in Clear Vision then as the Chairman. I taught many courses but was particularly drawn to meditation and developing one's awareness so that we can be more present, moment to moment. For me the Alexander Technique is all about how we use ourselves in each of these moments, noticing any unnecessary tensions as we do things and consciously changing these unhelpful habits.
I want my sessions to be an interesting and fun exploration of 'how we do things', where we see that our habits can hinder us and looking at ways to do/move/act with greater ease and freedom. It's a joint adventure as we work one-to-one and use the principles of the Technique which is simple, yet can have far reaching effects for each and every one of us.
For more information, see our Alexander Technique page.
Mokshajyoti (Bryan Stephens) BSc (Hons) S.T.A.T
Contact Mokshajyoti: 07932 640 248 mokshajyoti@gmail.com
manchester-alexander.com