Jane Craggs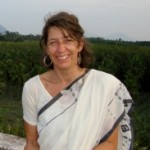 Jane Craggs has been practising and studying yoga for 16 years and teaching for 10. She originally trained as a teacher whilst living in Spain and on her return to the UK set up Yogaspace and subsequently Manchester Yoga Shala, a collective of teachers committed to bringing authentic yoga to those who may not ordinarily have access to it. Her life is firmly rooted in the classical 8 limbed path of Patanjali's Yoga Sutras which present yoga as a way of life, honouring the cultivation of health, harmony and eventually transcendence.
She has been very fortunate to have studied with many inspirational teachers in the West, most influentially, Donna Farhi with whom she completed advanced teacher training in 2005 and she regularly visits India to reconnect to the source of the classical teachings. She has most recently been studying with AG Mohan and his wife Indra in India. After many years of being strongly influenced by their work, she finally experienced their incredible clarity and authenticity first hand and continues to put into practice what she has learnt with them. Theirs is the yoga of Sri Krishnamacharya via the Yoga sutras of Bhagavan Patanjali. It teaches a simple and accessible practice which can be applied to the individual for peace of mind and a healthy body. Everyone can practice this form of yoga and the emphasis on individual practice means it is particularly useful in a therapeutic context.
Jane is also currently undergoing ongoing training in Ayurveda under the auspices of Robert Svoboda and the Ayurvedic Institute of Albuquerque. She has also spent time in India studying and training in therapeutic treatments. Ayurveda supports the journey towards health and peace and along with Yoga is a powerful system of returning body and mind to a balanced state. Jane's teaching of Yoga and Ayurveda  is rooted in the compassionate wisdom of the sutras and she passes on the teachings in a gentle, supportive way allowing each individual space to experience the practices in their own time. She welcomes everyone to her classes especially those with pre-existing medical conditions, physical or mental.
www.janecraggs.co.uk
Restore to Recharge – Yoga Class
Mondays 12.45-2pm
Just turn up, all equipment provided and pay Jane £9 / £7 concession (cash/cheque)
Please check calendar for class breaks
Yoga Therapy One to One
More information coming soon. Cost £46 for 1 hr. Please contact Jane to arrange an appointment. Please note our cancellation policy.
tel: 07764 963 138