Restorative Yoga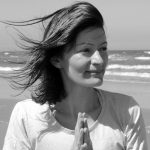 This Restorative Yoga class incorporates a sequence of about 4 postures per class, with one single aim: deep relaxation. The support of many props and blankets encourages the release of muscle tension and induces peace of mind.
Enjoy being guided and supported in the postures, this class will be give your mind and body a thorough mid-week recharge.
The practice ends with a Yoga Nidra guided relaxation, during which you become mentally aware of the whole physical body. You are encouraged to tune in to your emotions, let go, and invite more balance & harmony within all aspects of your self. Yoga Nidra is a proven resource for healing, insight, and empowerment.
The class is suitable for all levels, including yoga beginners and first timers, students suffering from fatigue issues, recovering from illness or life events.
If possible, please share information about your current condition with the teacher following this link: Student Yoga Registration. Please note this is optional.
Please note that the class is suitable for pregnancy; we simply require you to advise the teacher beforehand of your stage and gestation and pre-book. Thank you. Contact Maryline – yogaspirits@hotmail.co.uk

Day: Wednesdays
Time: 10.30-11.30am
Cost: £7.50 / £6 concession
Teacher: Maryline