Alastair Stewart
I have been working therapeutically with mindfulness for 16 years, initially with a ground breaking mental health project called Lothlorien. My awareness of how the body expresses emotion has continued to grow from this time. The journey has taken me to practice with Yogis, Zen monks, living in nature and hanging out with some very experienced body-centred psychotherapists.
I am a qualified Person Centred Counsellor, Certified Hakomi Psychotherapist, a Qualified Supervisor and a MBACP UKAHPP associate. I work with individuals, groups and children. I have been on numerous workshops from group facilitation to psychodrama. I have a particular interest in trauma and have been studying Hakomi continually for the last 8 years. I see my practice as integrative.
Find out more about Hakomi Psychotherapy and Person Centred Counselling by following the links below:
My practice uses mindful, body-centred psychotherapy working on the following principles:
Unity – acknowledging everything as part of a greater whole
Organicity – the experience of healing from the inside out
Mindfulness – the practice of noticing present experience
Nonviolence – respecting the wholeness of each of us
Our body holds the record of all our experience. Through the practice of loving presence and an awareness for what is being generated in the present moment, we can come to life with an openness and acceptance of our thoughts and feelings. By integrating what at times seem like conflictual emotions, we can realise our wholeness and foster a deeper connection to who we are.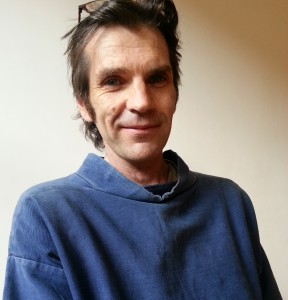 Alastair Stewart MBACP UKAHPP associate
www.mindinthebody.co.uk
Appointment: £45
Concessions sometimes available
Please note – our cancellation policy
Supervision with Alastair
As a therapist I see myself as an experiential based practitioner and I like to bring this into my supervisory work. With that quality of being alongside and the loving presence essential for my Hakomi practice, I offer supervisory sessions to therapists throughout the spectrum of the psychotherapeutic field. I would only ask that you have an interest in your own assisted self-study and a genuine bent for lessening people's suffering. In the words of Germain Lietaer:
'The therapist can never bring the client further than where he is as a person.'