Manjunaga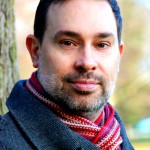 My yoga practice began in 1998 when I started attending yoga classes taught by Padmadarshini and Christine Howitt at Bodywise in Manchester. After many years of exploration in my own yoga practice, I started my teacher training with Simon Low and the Yoga Academy in 2006, qualifying in 2008. In recent years I have been particularly inspired by the work of Donna Farhi and have taken the opportunity of studying with her.
For me, yoga is an awareness practice, offering us an opportunity to become more fully embodied in our experience; this allows for a greater sensitivity to our emotional and physical well being. I teach dynamic flowing movement combined with stilling postures to experience yoga as a deepening awareness of breath, cultivating peace of mind.
I have also spent several years teaching meditation and buddhism courses and I am particularly interested in exploring qualities of stillness and spaciousness through my yoga teaching.
www.manjunaga.com
Yoga workshops with Manjunaga
Exploring Comfort & Ease in the Neck & Shoulders – Saturday 24 June 10-1pm
Workshop exploring safe opening practices for the Shoulders & Neck
The neck and shoulders can hold deep tension. Discomfort and holding in these areas can sometimes be due to lifestyle factors and emotional strains. eg sitting for long hours using a computer, or driving a car.
During this workshop we will spend time exploring this through a mixture of gentle warming practices, including hydrating movements for the spinal midline, finding how a fluid spine can support deeper opening in our shoulders and neck. We will also build dynamic flowing sequences and stilling yin/restorative postures that can support opening in our body.
Explore how these practices can build strength, flexibility, and deep relaxation.
Full workshop price is £30/£25 non-refundable, non-transferable.
Autumn Yoga workshop – Saturday 23 September 10-1pm
Please note – our cancellation policy