Take some time together with your baby to enjoy gentle exercises, songs, massage and games to help relax, strengthen and rejuvenate. This class is an informal and relaxed way to spend some time with your little one. Maryline Higham is the teacher for this class.
"I looked forward to mother and baby yoga every week. I will remember it as a very special time spent with my son." Penny, Ramsbottom
Benefits
* Boosts energy levels
* Relieves stress and anxiety
* Strengthens pelvic floor and abdominals
* Promotes restful sleep patterns
* Encourages good feeding
Class Information
Time: Every Thursday (term times only)
10.30-11.30am (from 5 months old) 6-week course starting on 11 January
1.15 – 2.15pm (from 2 months old) 6-week course starting on 11 January
Bright ventilated room. You can bring your own mat if you wish. Bring a blanket to prop baby's head.
Cost: £54 for 6 weeks
Pay as you go £10 (doesn't guarantee a place each week)
Booking: Register here Post Natal Yoga Registration to provide your health information to Maryline – she'll be in touch to confirm your space and pass on relevant payment information.
Please check Calendar for any class holidays.
Cancellation policy: Should you need to miss a class, you will be offered a video recording. Courses are transferable to another person but not refundable. Thank you for your understanding.
Feeding and What to bring
Babies can be fed when needed. Please bring everything you need for feeding and changing including a blanket for baby to lie on. Yoga mat & blocks provided. Just wear something comfortable and maybe bring some water.
Accessing us from street level
Please note we recommend that babies are kept out of pushchairs during the lifting up and down the six steps from street level to reception. It's great if you can bring baby in a sling. There will be someone on hand to help you with your pram, but if you choose not to lift baby out, the responsibility rests with yourself. There is a lift.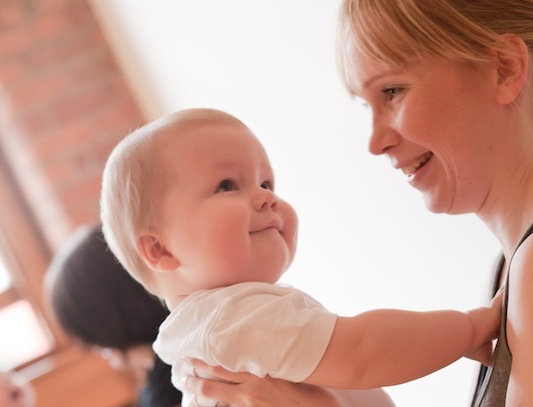 Upcoming Events for Babies