Please Note
This class is currently not running at the moment.
Please register here: Post Natal Yoga Registration and Maryline will be in touch with the logging information for the Zoom class.
Any questions, including pricing, please contact hello@yogawithmaryline.com. Thank you!
Take some time together with your baby to enjoy gentle exercises, songs, massage and games to help relax, strengthen and rejuvenate. This class is an informal and relaxed way to spend some time with your little one. Maryline Higham is the teacher for this class.
"I looked forward to mother and baby yoga every week. I will remember it as a very special time spent with my son." Penny, Ramsbottom
Benefits
* Boosts energy levels
* Relieves stress and anxiety
* Strengthens pelvic floor and abdominals
* Promotes restful sleep patterns
* Encourages good feeding
Class Information
Time: Every Thursday 1.15 – 2.15pm
Age of baby: Suitable for babies from 6 weeks until about 8 or 9 months old. Not suitable for babies that are crawling.
Cost: £8 / £6.50 concession (benefits/students/unemployed) cash only
No booking required: This is a drop-in class so just turn up – there is no need to book.
You can register here Post Natal Yoga Registration to provide information to Maryline in advance about how you are but it's not compulsory!
Please check Calendar for any class holidays.
Feeding and What to bring
Babies can be fed when needed. Please bring everything you need for feeding and changing including a blanket for baby to lie on. All yoga equipment is provided. Just wear something comfortable and maybe bring some water.
Accessing us on the 2nd floor
Please note we recommend that babies are kept out of pushchairs during the lifting up and down the six steps from street level to reception. It's great if you can bring baby in a sling. There will be someone on hand to help you with your pram, but if you choose not to lift baby out, the responsibility rests with yourself.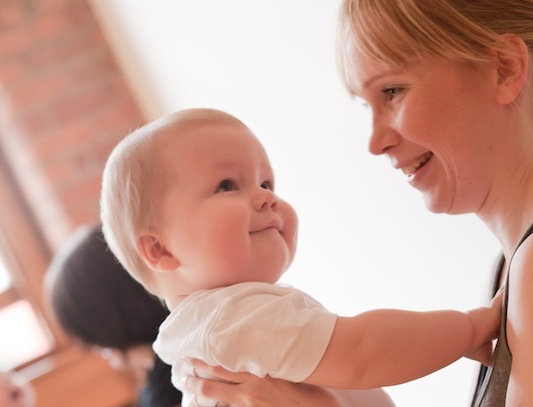 Upcoming Events for Babies
[eventlist  categories="9″ limit=6]