Maryline Higham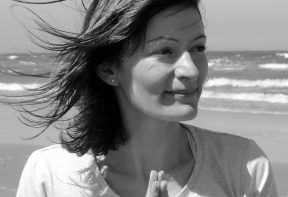 Maryline is a qualified Hatha Yoga teacher with 11 years teaching experience. Specialising in Restorative, Prenatal and Postnatal Yoga, she enjoys balancing the physical challenge of postures with the calming journey towards inner peace. She is registered with the British Wheel of Yoga, Birthlight and Yoga Alliance USA.
"I discovered Restorative Yoga in 2014 whilst living overseas in Canada. It was at a challenging time of my life, when I truly needed to pause and recharge whilst dealing with all kinds of pressures. The practice is wonderful and is now my go-to to keep calm and connected. I've enjoyed teaching Yoga Nidra guided relaxation since the start of my teaching career."
Maryline's studies with the UK's leading relaxation expert Uma Dinsmore-Tuli, have inspired her to offer Restorative Yoga classes & Yoga Nidra relaxation to promote peace of mind – especially to folks with fast-paced lifestyles. She teaches in a caring and relaxing way; her approachable nature comes across in class to leave students feel strong and nourished.
Maryline will also be teaching Pregnancy Yoga and Baby Yoga classes from Thursday 16 November.
She is also passionate about the prenatal period and early infant years. She wishes to help new mums start their parenting journey with more ease and comfort, whist having fun & enhancing their well-being. "I wish to demonstrate how Yoga is a life-long companion for peace of mind and achieving one's higher potential. Bumps and babies alike can benefit from the tranquil effect of Yoga."
Maryline offers birth preparation workshops for couples (contact her for the next date). Her class gives parents powerful yoga tools that can drive them towards a positive birth experience and enhance serenity and confidence as the due date approaches.
Maryline is a mother of one (8 year old) and a step-mum of two.