Padmadarshini (Rosey Cole)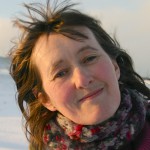 I began to practice yoga in a consistent way when I moved to Manchester in 1990 and started attending Iyengar classes. After a few years I did my initial teacher training at the Iyengar institute and began to teach classes locally. I see yoga very much as a process of enquiry, exploration and creativity and this enquiry has drawn me to study and train with various teachers who have all inspired me and given me much to play with and explore both in my own practice and in my teaching.
I believe that yoga is and should be a practice that supports us in our lives, taking into account our age, lifestyle, health – there are many tools within the practice that we can learn and adapt to meet our own individual needs. In my classes I try to share these tools and bring in different approaches. I teach both a passive/quiet yin style where we hold poses for a few minutes as well as dynamic sequences moving with fluidity and breath. Yoga is, I think, essentially an awareness practice. It has the potential to help us to reinhabit our bodies, to listen to our bodies` wisdom and to meet ourselves as we are with kindness and sensitivity.
Yoga with Padmadarshini
Yoga Courses
Check our Calendar for Padmadarshini's next yoga courses. Book in advance with us at Bodywise.
Drop-in Yoga Classes
Mondays 5.45-7.15pm £10.50 / £8 concession
Tuesdays Women's Yoga Class 10.30-12.15pm £12.50 /£10 concession
Just turn up, all equipment provided and pay Padmadarshini – cash only
Please check calendar for class breaks